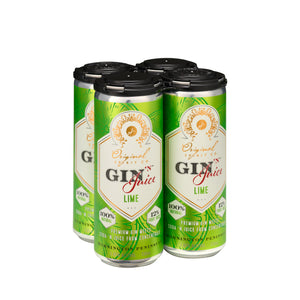 Made with real limes, small batch gin and 100% all-natural ingredients. Our Lime Gin 'N Juice is delightfully sparkling and ready-to-drink! 
Packed full of flavour with a punchy, zesty taste and a light sweetness courtesy of real fruit juice, this mouth-watering citrusy Gin drink will leave your taste buds feeling refreshed and satisfied.
With only 4.6g of sugar per 100mls you can enjoy the fresh, zesty taste without the guilt.
Our Gin 'N Juice cans come in a pack of four or a case of 24. We also offer a mixed six-pack, containing two of each flavour, (Lime, Mandarin & Grapefruit) so you can try them all and find your favourite.
Each 330ml can is equivalent to one standard drink, with an ABV of 3.85%.