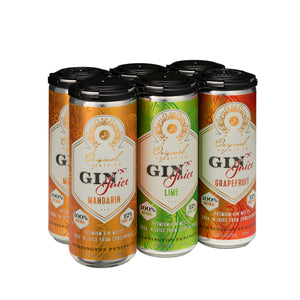 Gin 'N Juice Mixed - 6 x 330ml
Premium Gin meets Soda and Juice!
2 x 330ml Lime; 2x 330ml Mandarin; 2 x 330ml Grapefruit
Our mixed six-pack, contains two of each Gin 'N Juice flavour; Lime, Mandarin and Grapefruit so you can try them all and find your favourite.
Made with real fruit, small batch gin and 100% all-natural ingredients. Our Gin 'N Juice cans are refreshingly sparkling, packed full of flavour and ready-to-drink.
Each 330ml can is equivalent to one standard drink, with an ABV of 3.85%.