Categories
Gins, Ginfusions & Original Spirits
What is Ginfusion?
Our Ginfusions are a unique range of full flavoured Gin infusions. You'll find them here on our website and many of our retail partners websites under flavoured gins. Our range is unlike anything you've ever tasted and makes a refreshing long drink mixed with soda, your favourite mixer, or it can be sipped neat over ice or in a delicious cocktail.
Our award-winning Classic Dry Gin is blended with 100% natural and all real ingredients including fruit, fruit juice, ginger (in our Country Rhubarb with Ginger Ginfusion) and real lemon myrtle and elderflower in our Lemon Myrtle with Elderflower Tonic Ginfusion. All Ginfusions deliver an intense taste and real flavour – what you read on the label is what you smell and taste.
We do not compromise on quality and we source only the best and most premium ingredients. The rich colours and astounding clarity of our Ginfusions are achieved through the premium natural ingredients used and by our head distiller Christoph's precision, intensive blending and filtering.
Watch how we make our Country Rhubarb with Ginger Ginfusion here.
The range consists of 6 unique flavours; Blood Orange with Japanese Yuzu, Pink Grapefruit with Pomegranate, Fresh Apple with Brazilian Lime, Summer Peach with Passionfruit, Country Rhubarb with Ginger, Lemon Myrtle with Elderflower Tonic.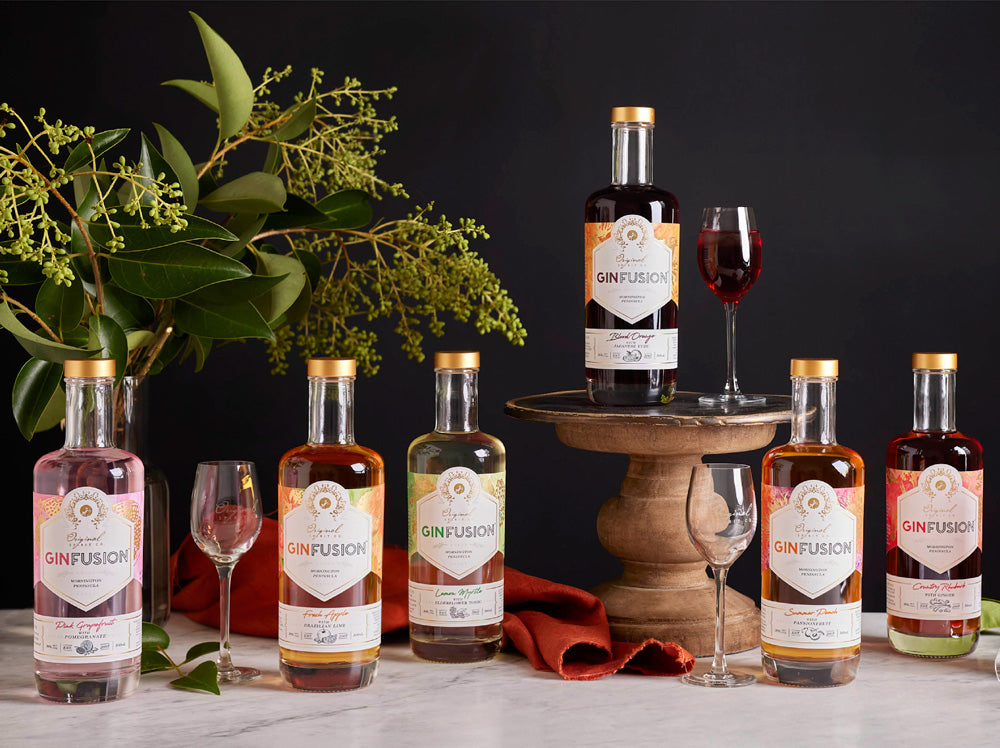 Are your Gins Gluten Free/ Vegan?
Yes, you can be assured all our products are Gluten Free and Vegan. We only use 100% all natural plant based ingredients.
Can we visit your Mornington Peninsula distillery?
We are open for bottle sales direct from our cellar door from Monday – Friday between 11am and 4.30pm. We are closed on weekends as we attend many markets and events around the state.

Our distillery is a working distillery in the true sense. We are not open for distillery tours, meals or tastings and cannot accommodate groups unfortunately.
Do your Gins contain sugar?
Our Classic Dry Gin and Barrel Age Gins do not contain any sugar.

Our Wild Sloe Gin does contain natural sugars from the Sloe Berries and as is traditional in the making of Sloe Gin, some added sugar too.

Our Ginfusion range of flavoured gins contains natural sugars from fruit and some added sugar as well.

Our Ginfusion range is made to be enjoyed with a neutral mixer such as soda. As Tonic contains sugar, a serve of Ginfusion and Soda may have a similar sugar content to a regular G&T.
How long do your Gins last?
Our Classic Dry, Single Barrel and Sloe Gins will last indefinitely unopened and will not 'go bad' or 'off'. Once any gin is opened, the oxidisation process starts and although it won't go off, the flavour will change and diminish over time. We recommend using your open bottle of Gin within a year.
Our Range of Ginfusions have a best before date printed on the bottle. This relates to the shelf life. We recommend keeping them in a cool spot and away from direct sunlight. While our Classic Dry Gin which is used as the base is distilled, our Ginfusions also contain undistilled all-natural fruits and juices and other undistilled ingredients so they should be refrigerated after opening to reduce oxidisation and be consumed within 3-4 months.
You may see natural sediment occur, however a gentle shake will disperse and your Ginfusion will remain delicious to drink.
Why would my Pink Grapefruit Ginfusion have lost its colour?
Our Pink Grapefruit with Pomegranate Ginfusion is a handcrafted spirit made with all natural ingredients, the delicate pink colour may fade over time and when exposed to direct sunlight. Any colour reduction will not affect the delicious taste of your Ginfusion.
Where can I taste your products?
We are a busy crew and love to get out and about. You'll find us most weekends at farmers markets and events in and around Melbourne and Victoria, and sometimes further afield. Email us to see if and when we'll be in your area.
Do you always have Limoncello in stock? Why can I not find it?
Our famous Limoncello is a seasonal release and sells out very quickly. As we are a small distillery, and due to the intensive labour process and time it takes to make we can only produce small quantities at a time. We will definitely be continuing with our Limoncello but expect only a few releases a year.

Our email family are first to be notified of our Limoncello releases, be sure to sign up here so you don't miss out.
Where can I buy Original Spirit Co. Gin and Ginfusions??
Our full range of products can be purchased direct from our website. Many of our Gins and Ginfusions are also stocked at independent liquor stores and in select Dan Murphy's, BWS, Vintage Cellars and Liquorland Stores.
Where is my order?
We aim to dispatch within 1-3 days from date of your order. Most likely your order will be shipped either the same, or next business day.
You will receive a tracking no. via Australia Post or Sendle once your order has been despatched so you can keep an eye on the delivery date of your parcel.
Depending on who your order has been shipped with you can
Visit Australia Post to track your order, or
Visit Sendle to track your order.
How do I change or cancel my order?
If you have made a mistake with your order or need to cancel please email us as soon as you can. Unfortunately we cannot amend or cancel an order after it has been dispatched.
Do you ship internationally?
We currently only ship within Australia and not overseas.
What are your shipping charges?
We offer $10 flat rate shipping Australia-wide on orders under $100 and free shipping on orders over $100.
If you make two separate transactions you will need to pay the applicable shipping on both transactions.