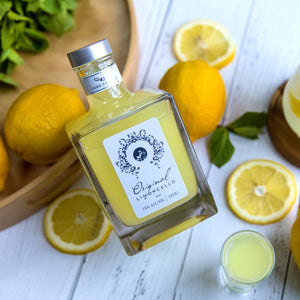 Original Limoncello, 500ml 28% ABV
Please note: This is a handmade product and the appearance and colour can vary from batch to batch. The taste remains consistent and will surprise and delight your tastebuds with a fresh and zesty taste - enjoy! 
An Italian tradition interpreted in an Australian way. Using only the peel of home-grown Victorian lemons, Original's Limoncello accentuates the natural aroma and sweetness of this wonderful fruit.
Handcrafted in small batches, this local and seasonal release ensures the finest possible quality and taste.
Best enjoyed chilled or mixed in your favourite cocktail, our Limoncello is the perfect refreshment for a hot summer's day.
Limoncello Spritz


90ml Prosecco or sparkling wine
30ml Original Limoncello 60ml Soda water (or to taste) IceMethodPour Limoncello over ice and stir Add Prosecco & soda Garnish with mint and a lemon twist
For more cocktail ideas click here
How to look after me

Experience the pure essence of our Limoncello, crafted with 100% natural ingredients. We prioritize flavor above all else in our production process, allowing the natural oils to create a unique character that may lead to the occasional separation into layers of oil and sediment.
Don't fret if this occurs – simply give it a gentle shake to restore its original state.
For those seeking pristine clarity, a quick pass through a coffee filter will have your Limoncello looking and tasting as fresh as the day it was made.
Cheers to the true taste of Limoncello, where nature's finest flavors shine.
For optimal freshness, store in the refrigerator or freezer for a vibrant, zesty flavor profile.